Products & Services

Viral Clearance Study Service
Viral Clearance Study Service
Non-GLP Viral Clearance Study Service
Total support for a greater confidence in viral safety
As a part of our customer support services, we offer non-GLP virus studies on customer protein solution samples. This service allows you to pre-test your virus removal process using Planova™ filters before the actual GLP virus clearance testing, so as to anticipate the outcome and to effectively reduce the risk of failure in the actual GLP studies, thereby contributing to saving of total anticipated time and costs.
Customers will be able to save time, cost and hustle on performing a virus clearance test, as Asahi Kasei Bioprocess provides total solution for a reliable viral clearance testing: the viruses, the facility and the experts.
We have the experience of conducting more than thirty studies over ten years. Our dedicated team of experts is always ready to provide you with total support in obtaining greater confidence in viral safety of your process.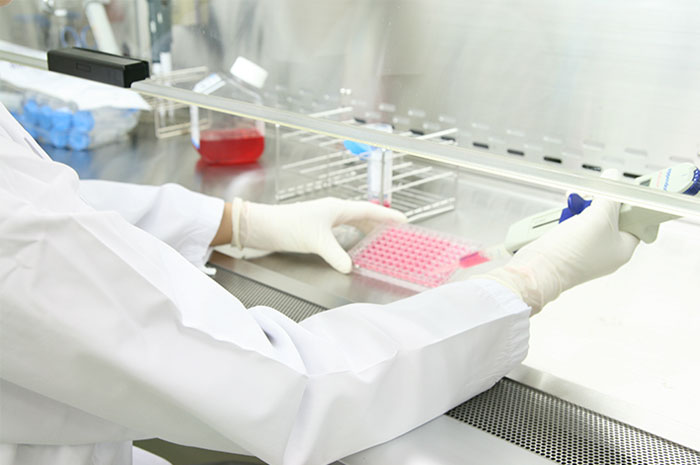 Our viral clearance study flow that meets your needs
Using samples from the planned process feed, our technical team will conduct non-GLP virus studies using stock virus developed by Asahi Kasei Bioprocess. Our dedicated team of experts will be responsible for providing consultation on study protocol, conducting virus testing as well as reporting the results. A sample of the report cover page outlining the items included in the report can be find by clicking the document thumbnail below.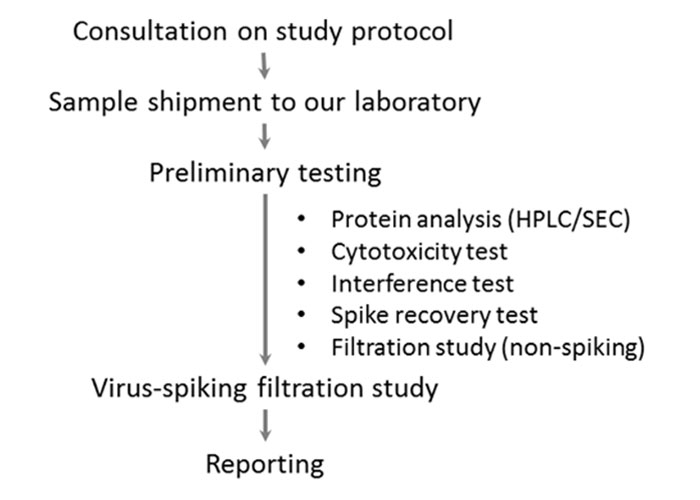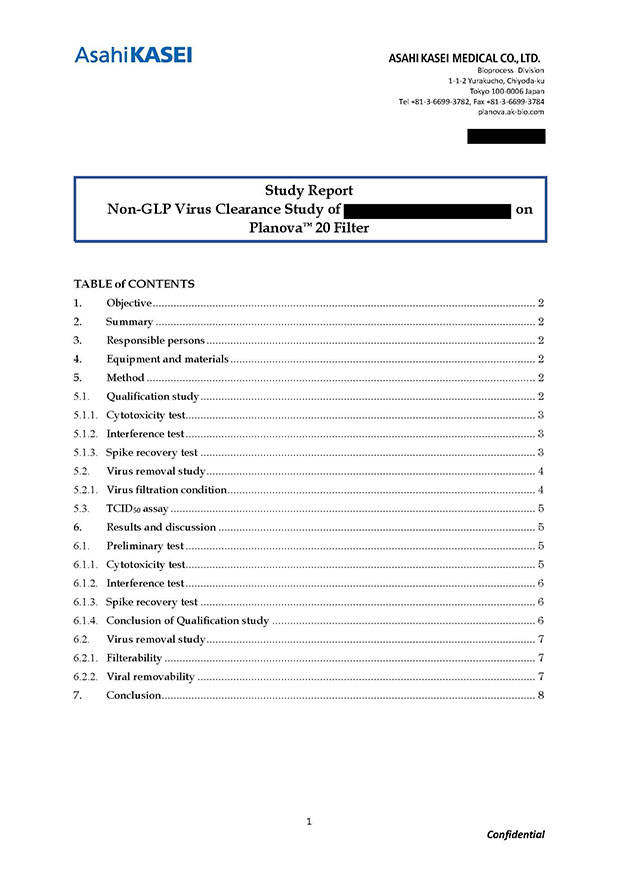 Use of parvoviruses to mimic the actual viral clearance test
In order to design a viral clearance study that replicates the actual GLP test, we use actual viruses in our study. Parvoviruses such as porcine parvoviruses (PPV) and minute virus of mice (MVM) are the smalles grade, non-envelope viruses that are typically used in the validation of virus filtration process. By using these viruses in our viral clearance study, we prepare you for the actual GLP studies.
Virus
Size
Enveloped/
Non-enveloped
Genome
Physico-chemical
resistance
Porcine parvovirus (PPV)
18-24 nm
Non-enveloped
DNA
High
Minute virus of mice (MVM)
18-24 nm
Non-enveloped
DNA
High
Our unique virus stock preparation method
Using virus solutions with low purity or low titer hinders study outcomes due to filter clogging or insufficient log reduction value (LRV). We use a unique PPV stock that is serum-free and has a high titer. Our PPV stock preparation method minimizes impurities derived from serum and yields a high titer (>8 log) virus stock without aggregation of virus particles. Using this stock in virus studies has the following merits: - Minimal impurity load avoids filter clogging and gives virus filtration conditions similar to actual production conditions - With high titer virus stock, spiking even small volumes yields high LRV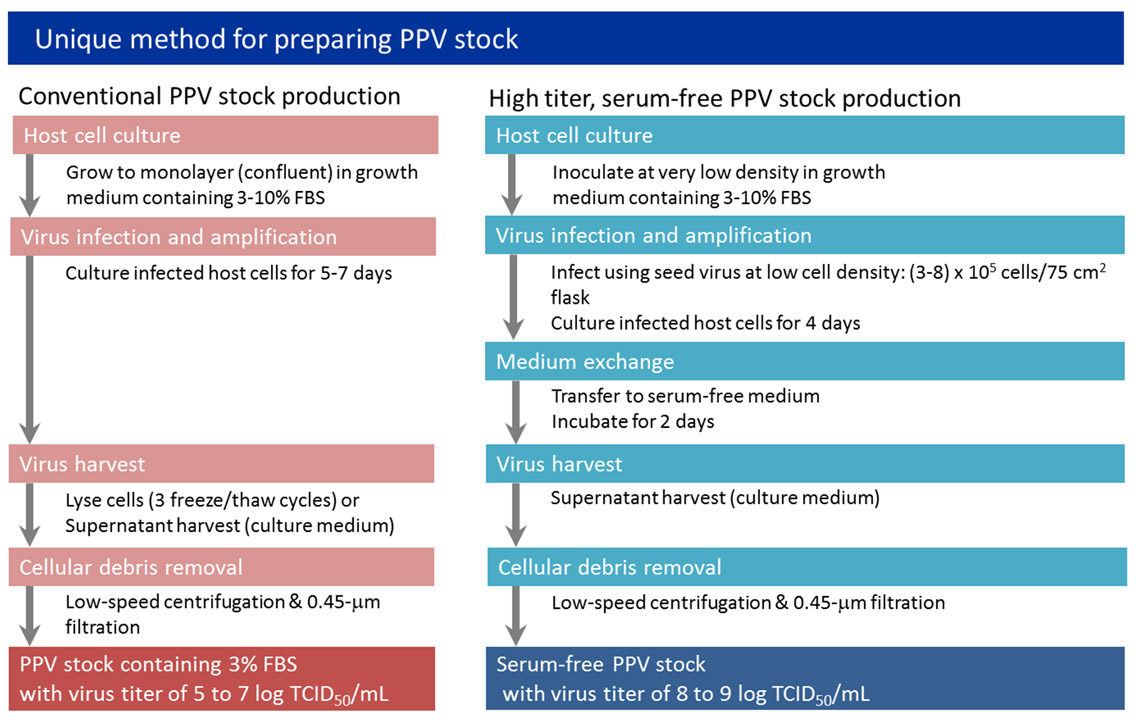 Design Space Study Service: Let the experts help you defining a more robust process while you save time and costs
We also provide consultation service for customers who wish to define the design space for their virus filtration process. Defining design space benefits you in the following aspects:
To understand the optimum parameters so as to improve the robustness of your process, and
To ease optimization within the design space without the need to revalidate the whole process for regulatory purposes.
Our dedicated team of experts will be responsible for providing consultation on study protocol, conducting evaluation as well as reporting the results. You would be able to also save time and costs in defining a robust process. Let the experts help you develop a more robust virus filtration process!
Our Facility
State-of-art facility that produces reliability
Both our laboratories in Nobeoka and Glenview serve as our global virus testing facilities, where we offer viral clearance study service, design space evaluation service as well as other virus filtration-related consultation services for our customers.